Wine Friends.. thank you so much for taking advantage of this deal.
Thank you for your patronage and I know you'll really enjoy the wine. We went from 465 cases 2 weeks ago to having 125 cases of each wine left. I was thinking back over the last 45 years and some of the vintages we've made with these grapes and this is truly some of the best we've made. I was enjoying some just recently from the lats '90s and early '00s and they are drinking remarkably well. This wine will age for easily 10 and 20 years.
Then I got to thinking, I want to see how this wine is in 10 years or so, so I'm going to actually keep 10 cases of each, making 115 cases of each available, as I figured even at only 2 bottles a month, that would give me only 10 years to see how the wine is improving with age. So if you picked up 1 case before, at 1 bottle a month that would only last 1 year. If you are of the same mindset, I encourage you to pick up a couple more, as this will truly be the end of the line.
Thank you again for the years of partronage. Cheers!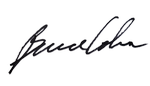 Creekside and Hillkside Cabernet Sauvignon both recieved scores of 96 and 97 respectively from Anthony Dias Blue!
Check the tasting notes out here.
Here's the deal:
50% OFF case sale - Hillside or Creekside (can be a mixed case of Hillside & Creekside).
$20 flat rate shipping anywhere in US.
Limited to 2 cases per customer.
Must buy at least 1 case for discount to apply.
Smaller quantities do not apply to this discount or promotion, but can be purchased.
Less that 115 cases of each left!
USE THE PROMO CODE CASE50 ON CHECKOUT TO RECEIVE THE DISCOUNTS

*Note: This discount cannot be combined with any other discounts in place and this offer supercedes any other previously stated promotions or discounts, including Club Members.
If you enter the code and get an error that the code does not apply, make sure to enter a state. We can't ship everywhere and before the cart can calculate the shipping, it needs to know where it's shipping to.