Uncover the rich history behind Trestle Glen Vineyards.
Farming and Music is the Inspiration...
Farming and music have always played a big part in Bruce Cohn's life, as he was raised around both in Northern California with his mother, father and younger brother. Both his parents were accomplished musicians.
Decades of Experience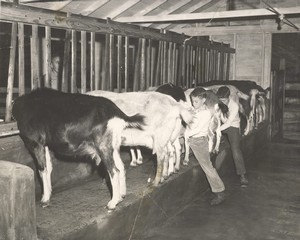 Born in Chicago, the Cohn family moved to San Francisco in 1956. In 1957, Bruce's father bought 32 acres of land in Forestville and started the first Grade A goat dairy in Northern California where Bruce and his brother Marty milked 115 goats by hand seven days a week. The Cohn family also had a 700 acre sheep ranch in Cloverdale which ran a flock of 300. This background is what drew Bruce to purchase 46 acres in Glen Ellen at the age of 27 where he planted Olive Hill Vineyards in 1974 and farmed grapes for 10 years, and later founded his namesake B. R Cohn winery in 1984 on the property, that would go on to produce 85,000 cases a year of high-quality, award-winning wines.
Prior to 1974, Bruce received a college degree in communication, focusing on radio and Television production and upon graduating worked for TV20 in San Francisco. Bruce left his career in Television to become the manager for what would be a succession of many popular rock musicians and Grammy-Award winning acts, at the same time building up and operating the winery he had started. Both of those careers lasted 46 years. During that time in the year 2000, Bruce hired Tom Montgomery to make 85,000 cases of 19 different varieties of wine. The duo has stayed together and Tom is now responsible for producing Trestle Glen Vineyards Cabernet. Tom has been working with that fruit and those vineyards since they were planted in 1998.
Now retired from the music business, Bruce can focus on winemaking and Trestle Glen Vineyards, which encompasses 21 acres of the best of the Olive Hill Vineyard. Bruce's first vintage received the highest rating of Bruce and Tom's careers with a 96 and a 97 from Anthony Dias Blue and Tasting Panel Magazine.
Boutique Small Lot Production
Making 800 cases versus 85,000 has allowed the duo to focus their attention on one vineyard and one wine with the best quality they can get from the grapes as the only thing in mind.
Trestle Glen Vineyards is named after the narrow gauge railroad constructed through Sonoma Valley in 1882 that connected the town of Sonoma to Glen Ellen. Remains of the original train trestle that crossed Sonoma Creek can still be found on the 21-acre estate.
Exquisite Sonoma Valley Grapes
Located in the southern portion of Sonoma County, this region is nestled between the Sonoma Mountain and Mayacamas Mountain ranges. Sonoma Valley enjoys cool mornings provided by the coastal influences, yet clear skies and warm afternoons provided by the mountains, ideal growing conditions for Cabernet Sauvignon grapes. Trestle Glen's sustainably farmed grapes are highly sought after and have been used for many years in B.R. Cohn's own estate Cabernet wines.