La La's Holiday Yams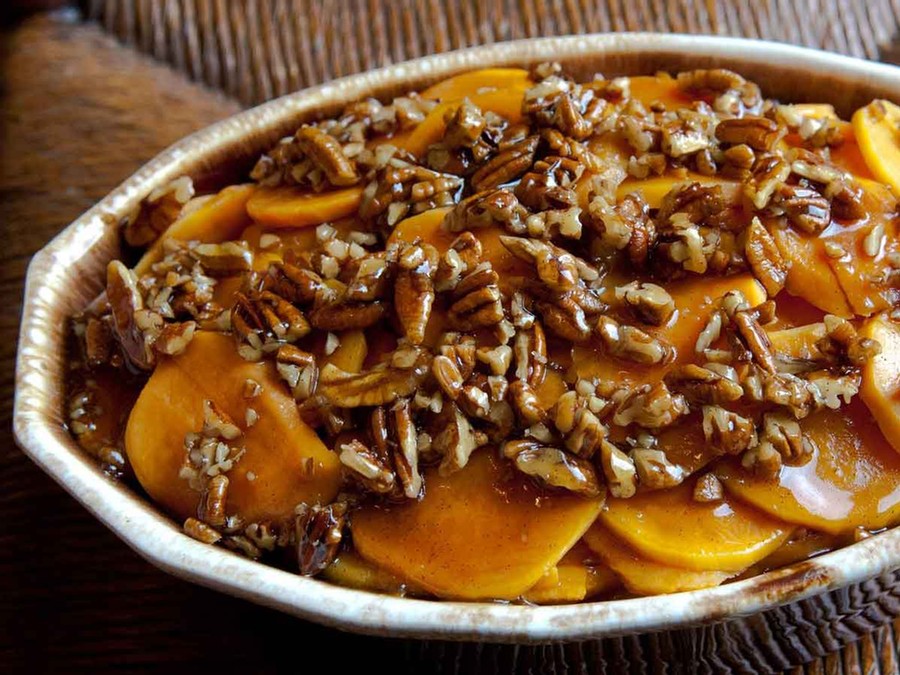 Recipe Date:
November 1, 2018
Measurements:
Imperial (US)
This is now my favorite holiday yam recipe. It is beloved by all who taste it, and it is quite simple and quick to prepare. The perfect dish for Thanksgiving!
Ingredients
Filling:
6 large yams
4 green apples, coarsely chopped
1/4 cup butter (1/2 stick) softened
8 ozs Philadelphia cream cheese, softened
3/4 cup brown sugar
1 tsp cinnamon
1 tsp vanilla
3/4 cup coarsely chopped pecans
1/2 pkg. fresh cranberries, coarsely chopped
Crumble:
1/2 cup (1 stick) butter, softened
3/4 cup brown sugar
1 cup oats
1 tsp cinnamon
Directions
Filling:
Heat oven to 350 degrees
Bake yams until soft, about 1 ½ hours. Let cool.
In a large mixing bowl, beat the cream cheese, butter, brown sugar, cinnamon and vanilla until smooth.
Scoop out the cooled yams into the cream cheese mixture, and beat until smooth; a few lumps are ok.
Lightly spray a 9x13 or slightly larger baking pan.
Spread the yam mixture evenly into the pan.
Chop cranberries coarsely, then set aside.
Chop apples coarsely, then set aside.
Chop pecans coarsely, then set aside.
Layer the apples over the yams.
Layer the cranberries over the apples.
Layer pecans over cranberries.
Sprinkle the crumble evenly over dish.
Sprinkle lightly with cinnamon.
Bake at 350 degrees for 1 hour and 15 minutes.
Can be baked a day ahead.
Crumble: Combine the crumble ingredients in a small bowl and stir together until crumbly.
Wine Club Membership
Experience the very best of Bruce Cohn's wines and exclusive offers through joining our Wine Club today!
Your membership secures one shipment of three, six, or twelve bottles per year.